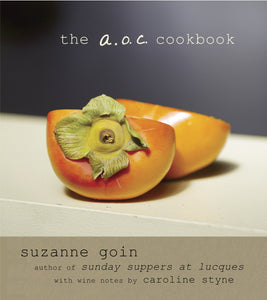 The A.O.C. Cookbook
Regular price
Sale price
$35.00
---
Since her James Beard Award-winning first book, 
Sunday Suppers at Lucques
, Suzanne Goin and her Los Angeles empire of restaurants have blossomed and she has been lauded as one of the best chefs in the country. Now, she is bringing us the recipes from her sophomore restaurant, A.O.C., turning the small-plate, shared-style dishes that she made so famous into main courses for the home chef. Among her many recipes, you can expect her addictive Bacon-Wrapped Dates with Parmesan; Duck Sausage with Candied Kumquats; Dandelion and Roasted Carrot Salad with Black Olives and Ricotta Salata; California Sea Bass with Tomato Rice, Fried Egg, and Sopressata; Lamb Meatballs with Spiced Tomato Sauce, Mint, and Feta; Crème Fraîche Cake with Santa Rosa Plums and Pistachios in Olive Oil; and S'Mores with Caramel Popcorn and Chocolate Sorbet.   

But 
The A.O.C. Cookbook
 is much more than just a collection of recipes. Because Goin is a born teacher with a gift for pairing seasonal flavors, this book is full of wonderful, eye-opening information about the ingredients that she holds dear. She takes the time to talk you through each one of her culinary decisions, explaining her palate and how she gets the deeply developed flavor profiles, which make even the simplest dishes sing. More than anything, Goin wants you to understand her techniques so you enjoy yourself in the kitchen and have no problem achieving restaurant-quality results right at home.

And because wine and cheese are at the heart of A.O.C., there are two exciting additions. Caroline Styne, Goin's business partner and the wine director for her restaurants, presents a specific wine pairing for each dish. Styne explains why each varietal works well with the ingredients and which flavors she's trying to highlight, and she gives you room to experiment as well—showing how to shape the wine to your own palate. Whether you're just grabbing a glass to go with dinner or planning an entire menu, her expert notes are a real education in wine. At the back of the book, you'll find Goin's amazing glossary of cheeses—all featured at A.O.C.—along with the notes that are given to the waitstaff, explaining the sources, flavor profiles, and pairings.   
           
With more than 125 full-color photographs, 
The A.O.C. Cookbook
 brings Suzanne Goin's dishes to life as she continues to invite us into her kitchen and divulge the secrets about what makes her food so irresistibly delicious.